The court must see your marriage certificate before they approve your divorce application. But do you need to send your physical marriage certificate to the court?
The answer depends on whether you are applying for divorce paper-based or online method. If you are applying for divorce using the paper method, you must send your physical marriage certificate to the court. And you won't get your marriage certificate back (read this article for more details).
However, if you choose to divorce online, you can send a photograph or scan of your marriage certificate.
Should you apply for divorce using the paper or online method?
You should use the online method where possible. You get to keep your original marriage certificate if you use the online process, but more importantly, it is much quicker. An online divorce will take seven to eight months compared to 12 – 15 months for paper-based applications.
You can read more about online divorce here. Don't worry if you feel that you aren't good enough with computers. If you are reading this, you are more than capable of getting an online divorce.
Should I photograph or scan my marriage certificate?
The photograph must be of the original certificate, not a copy. For this reason, we always recommend photographing your marriage certificate rather than scanning it because sometimes it is hard to determine if a scan is of the original. The court is very particular about this and will delay the divorce proceedings if they think the scan isn't of the original.
The best thing to do is use your phone to take a picture. The image must be sharp, not blurry, and all four edges must be visible so that you can see the table or surface underneath. If the photo crops any of the sides of the marriage certificate, then the court will refuse it and ask for another image. The photo below is an example of how to take a picture.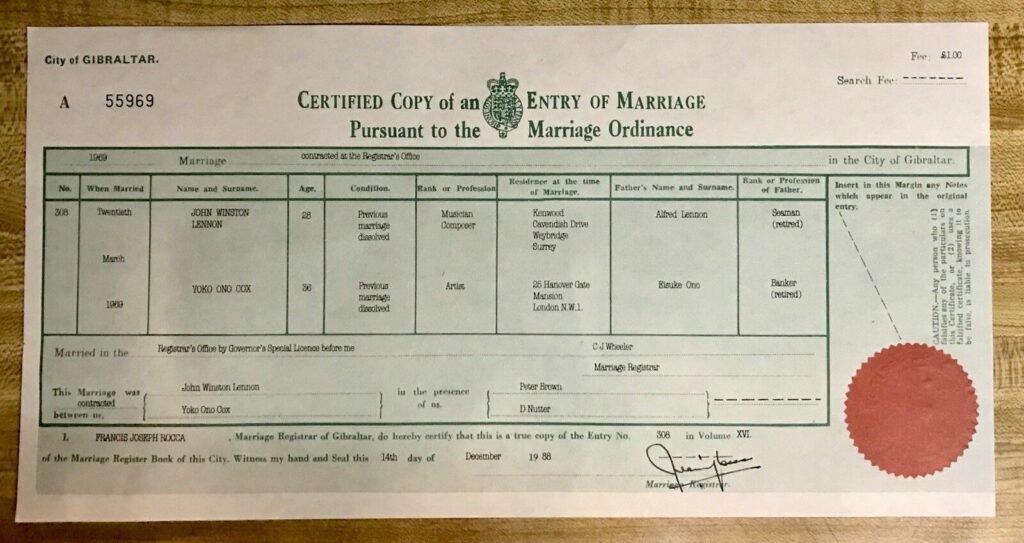 What size photo should I send of my marriage certificate to divorce?
Sometimes the handwriting on a marriage certificate is difficult to read, and the court needs to zoom into the photograph. For this reason, you should save your marriage certificate photo at its original file size so it doesn't blur when enlarged.
If you have any questions about marriage certificates or the divorce process, call us on 0204 530 8101, email us or book a free consultation with us here.