I want a divorce – everything you need to know – January 2021.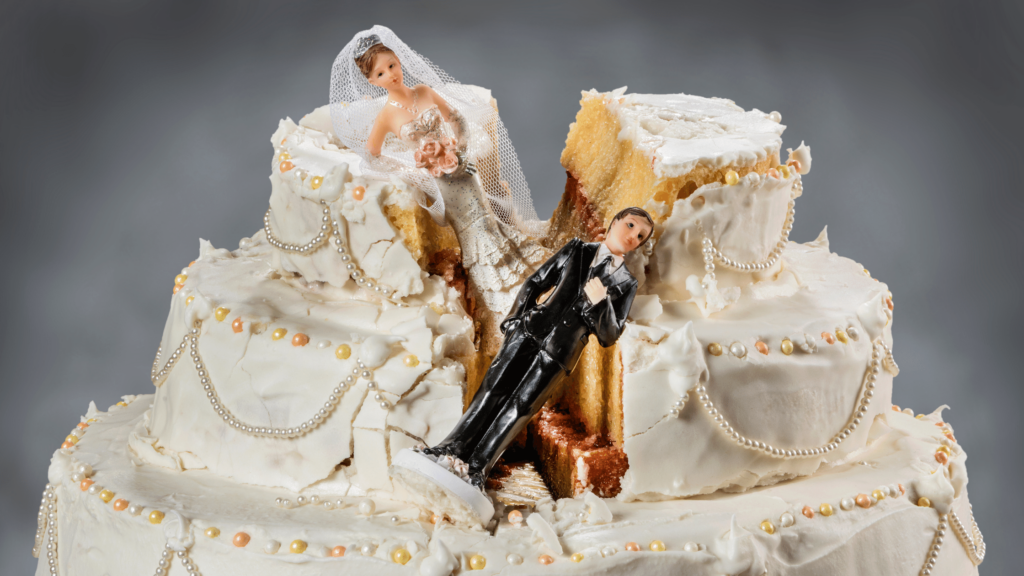 Divorce Day 2021 is here, and the effects of lockdown and the covid pandemic is set to see a surge in divorce enquiries.
Known as Divorce Day, the first Monday back after Christmas is traditionally the busiest day of the year for divorce specialists.
Easy Online Divorce gets inundated with divorce enquiries from fed-up spouses looking to add separation to their New Year's Resolutions. Often, the same questions and concerns come up, so we have written this article of frequently asked questions.
To prove that the marriage has broken down, the Petitioner must use one of the following five reasons for divorce:
There are also two legal requirements:
You must have been married for at least 12 months
You or your spouse must live in or have close links to England or Wales
I want a divorce, but how do I tell my spouse?
Telling your spouse that you want a divorce is never going to be easy. Take your time to plan what you will say and, more importantly, how you expect your spouse to react to prepare responses and not get thrown off guard.
We all tend to go through the same emotions when faced with significant change. The initial reaction tends to be shock or denial. This can move on to bargaining and anger before finally moving towards acceptance of the change.
If you want a quick and relatively pain-free divorce, you and your spouse must agree to it. You might not both want to divorce, but there has to be an acceptance by both sides that it's the only option. If you disagree, the divorce process will take longer, and it will cost more in legal fees as you have to argue your case through the courts.
The exception to this is if you and your spouse have lived apart for more than five years. In this situation, you do not need your spouse's agreement, although you still have to go through the divorce process.
I want a divorce, but I can't afford it.
One of the biggest concerns for many people considering divorce is the cost. Thousands of people in the UK remain stuck in a marriage because they think they can't afford to divorce, but help is available.
Court Fees
When it comes to divorce, you have three choices, to manage your divorce yourself, to use an expensive high street solicitor or to use an online divorce provider. In each case, HM Courts and Tribunals service charge £593 to process your divorce. These are not fees for you to attend court. These are the fees to pay for the court's staff to process your divorce.
The court fees of £593 is often a stumbling block, but it's possible to get help with divorce court fees or pay no fees at all. You can apply for help with fees if you receive certain benefits or earn a low income. Find out more here.
Solicitor and Divorce Provider Costs
Solicitor and divorce provider costs depend on the service you use. For detailed costs read this article, but in summary, a high street solicitor will cost £700 + VAT at the lowest end of the scale. Online divorce providers such as Easy Online Divorce provide better value. Our fully-managed divorce is only £249, and we are the first and only company to offer a fully managed divorce with affordable payments spread over three months.
You can start your divorce today for an initial payment of £83 and two monthly payments of £83. This is a fully managed service where everything is taken care of for you. We draft and file all divorce documents with the courts, and manage communication between the court, your spouse or any opposing solicitors.
We also offer DIY options, where you manage the process through the courts with our support and guidance.
I want a divorce, but my spouse refuses.
What can you do if you want a divorce, but your spouse refuses? You don't need your spouse's agreement if you have been separated for five years, but most people, understandably don't want to wait that long.
Time is a crucial factor. As discussed at the start of this article, we all tend to go through the same emotions when faced with change, so you might need to let the situation sit with your spouse for a few weeks until they move past the denial stage. However, be cautious not to let your spouse feel like the situation has blown over. Establish new boundaries such as sleeping in different rooms as soon as you have the initial divorce discussion.
If your spouse continues to struggle moving forward, talk them through it, if you feel able. Paint a picture of the future for them, where you are both happy. If you don't feel able to do this, mediation can help you talk through your concerns in a safe environment.
I want a divorce, but my spouse won't sign.
No one likes to read something negative about them, so when a respondent receives the divorce petition, the natural impulse is to defend the divorce because they disagree with the allegations.
For this reason, we recommend that where possible, couples agree on the grounds for divorce in advance, and if using unreasonable behaviour grounds, agree on the examples also.
If you can't or feel uncomfortable discussing and agreeing on unreasonable behaviour examples, there is an alternative.
On the acknowledgement of service form they receive from the courts, your spouse can tick a box that states they disagree with the allegations, but they will not contest (defend) the divorce.
The courts tend to take the view that if one party believes that the marriage has broken down, then it has. This means that choosing to defend a divorce based on unreasonable behaviour is costly, time-consuming and rarely successful.
I want a divorce, but I have nowhere to go.
What do you do if you want to divorce, but you and your spouse still live together? You can still get a divorce if you live in the same house, but you will need to show the court that you have maintained separate lives during that period.
There must be an intention to physically separate soon because you cannot divorce on the grounds of adultery or unreasonable behaviour if you continue to live in the same household for six months after the becoming aware of, or the events taking place.
While it is undoubtedly hard living with someone when considering or starting a divorce, you can't be forced to leave your home, and you can't force your spouse to go either.
If you can't afford to move into your place, see if a family member or friend can help you out in the short term until you can afford to buy or rent a property.
If you both own your home, it is common to sell the property and share the money from the sale to purchase a home separately or use the money to rent a property.
An alternative is to buy the other spouse out of the property if one of you earns enough and wants to stay in the home.
Things get more complicated with children. If a spouse if left with dependent children to care for, the courts may award the house to the resident parent.
I want a divorce, but my spouse won't leave.
Legally you cannot force your spouse to leave, or them you, unless domestic violence is involved.
Divorce is a highly emotional time, so mediation can be a useful process if your situation becomes particularly challenging. Both sides will be heard and encouraged to develop solutions that you both agree with.
Many people are under financial pressure due to covid, and couples are encouraged to be pragmatic when it comes to divorce and moving on. Physically moving may take longer, but it is still possible to start the divorce process while working through your options.
I want a divorce, but I don't know where my spouse is.
Many couples separate without getting a divorce. Years and years pass until a decision is reached to obtain a divorce. But by then, they have no idea where their spouse is.
As there is no such thing as an automatic divorce after a lengthy separation, you still have to apply for a divorce. And even though you don't need your spouse's agreement to divorce after five years of separation, they still need to know that you are divorcing them.
So what do you do if you don't know where they are? You have to demonstrate to the courts that you have done everything in your power to find your spouse. There several ways to do this, including speaking with family and friends, employers and searching social media.
There are also some legal options at your disposal, for further details email us at contact@easyonlinedivorce.co.uk.
I want a divorce, but I don't know where to start.
Firstly dig out your marriage certificate as this will need to go to the court. Don't worry if you can't find it or have lost it. You can find out how to get a replacement here.
Step 1. Grounds for Divorce
Next, decide on the grounds you will use for your divorce. You can find out how to use the different grounds for divorce here.
In many cases, the reasons for the marriage breakdown does not fit neatly into one of the five ground for divorce, and often there is overlap.
If you would like to talk to one of our friendly experts to help you find the best divorce ground for you, schedule a call back below.
Step 2. Choose Divorce Service
Once you have decided on the grounds for your divorce, decide on the type of service you want and pay the fees involved. You can find details of our packages here, but in summary, we have three main services:
Fully Managed Divorce service: £249
Completed & Verified service: £49
When we receive your order, we will send you full instructions on how to proceed. With our fully managed service, we only require five minutes of your time to complete a questionnaire, and then you can leave the rest to us.
Step 3. Court Fees
The next step is to pay the £593 court fees or apply for your help with fees code if you are eligible.
What happens next depends on the service you've bought. If you've gone for the DIY option, you will need to draft, file and manage your divorce with the courts. With the Complete & Verified service, we will prepare your papers for you, but you will have to file and manage the courts. And if you went for the Fully Managed service, you can sit back and let the experts handle all the stress for you.
I want a divorce, but are Online Divorces legal?
Yes. Online divorce is a perfectly valid way to end a marriage. In fact, an individual who meets the criteria can apply for their own divorce on the gov.uk website. The main difference between online divorce and traditional divorce is that the process happens virtually through electronic communication, instead of having a family law solicitor do it. Rather than paying solicitors to negotiate on your behalf, you and your spouse do it yourselves, saving time and money.
I want a divorce, but is an Online Divorce for me?
If you can answer yes to the following questions, you can use our fast and easy online service.
Do you live in England or Wales?
Have you been married for more than 12 months?
Do you and your spouse agree to divorce?
Online divorce services are for couples who are looking for an uncontested divorce. An uncontested divorce means that both individuals agree on the decision to end the marriage and the reasons why they want to end the marriage.
I want a divorce, but how do I select the right Online Divorce Service?
It might be an online divorce service, but that doesn't mean it should be faceless. Call the company up and have a chat about your situation. Get a feel for the people who will work on your case. Do they understand you? Do they genuinely want to help? Do they have the experience and life skills to help you navigate through your divorce? It's important to feel comfortable and that the company has your best interests at heart.
Call Easy Online Divorce on 020 4530 8101 and speak with our friendly and knowledgeable team. You will see how refreshingly different we are. We will guide and support you through the challenges of divorce to the safety and happiness of your new life.
Our purpose is to reduce the financial and emotional impact that divorce has on families, by helping couples spend less on their legal fees and reducing conflict.
Easy Online Divorce can handle everything for you, leaving you to carry on with your life while we deal with your divorce. There isn't a quicker or easy way to divorce.